Uconnect 8.4: Android Auto and Apple CarPlay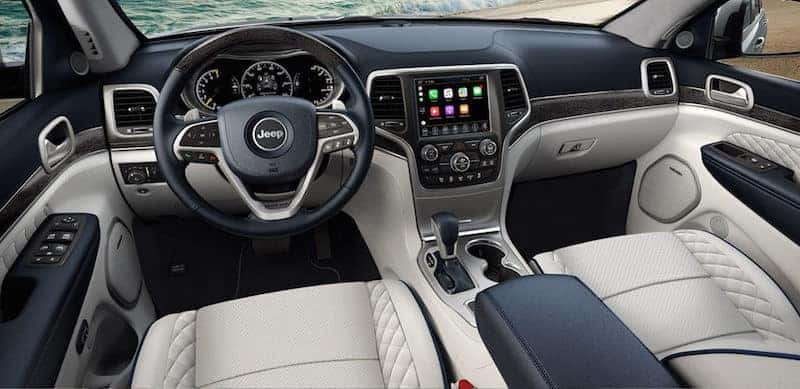 The latest updates to our model lineup include the newest rendition of Uconnect, complete with 8.4-inch touchscreen, Android Auto, and Apple CarPlay. Whether asking Siri for help is second nature or you're just getting used to using a smartphone, Android Auto and Apple CarPlay are designed to bring this ultimate convenience convenience of your phone to the dash of your vehicle – letting you stay connected while keeping your eyes on the road.
Uconnect 8.4 Android Auto
Stay focused, connected, and entertained from Belleville to East St. Louis with the perfect Android companion in your new Pacifica interior or Ram 1500. It takes just a quick "Ok Google" for the Google Assistant to serve you. It can:
Text anyone in your contacts with voice-to-speech technology.
Automatically play audio: your favorite album, playlist, podcast, or audiobook.
Remind you of your upcoming meetings, synced with Google Calendar.
Navigate you to home, work, or other destinations tied to your Google account.
Load useful driving apps.
Not only can you find Android Auto now on many of our new models, you can get a feel for it on your Android device. Download the Android Auto app to familiarize yourself and then discover firsthand how easy it is to use with a test drive at Auffenberg CDJR.
How to Use Android Auto on Uconnect 8.4
All it takes is an Android phone and a few simple steps to get started using Android Auto on your Uconnect 8.4 infotainment system:
Download the Android Auto app to your phone from the Google Play Store
Connect your phone to the USB media port on your infotainment system
Accept the terms of use and enable Bluetooth
You'll know you've successfully connected to Uconnect 8.4 via Android Auto when the phone icon on the touchscreen is replaced with an Android Auto icon.
Uconnect 8.4 Apple CarPlay
Android is only half the equation when talking smartphones, and we all know the other half: Apple. If you're one of Belleville's many loyal iPhone users, you can come along for the high-tech ride in a new Chrysler, Jeep, Dodge, or Ram. Apple CarPlay is a smarter, safer way to use your iPhone in the car, bringing common phone needs to the dashboard of your vehicle, like:
Sending and receiving messages
Using Siri to answer all of your questions
If you're like us, it's tough to go too long without checking your iPhone, and now you won't have to. New Chrysler, Dodge, Jeep, Ram vehicles are equipped with Apple CarPlay to bring the iPhone, the App Store, and the Apple experience to the dash of your vehicle. Apple CarPlay is now found on over 200 different models, and you'll find many of them here at Auffenberg CDJR.
How to Connect Apple CarPlay to Uconnect 8.4
Plug your compatible iPhone into your vehicle's USB port with an Apple-certified cable
Uconnect should automatically display the CarPlay home screen
You can now use your iPhone through Siri Eyes Free or the Uconnect touchscreen
Learn More About Android Auto, Apple CarPlay, and Uconnect
Still have questions or want to see how easy it is to use these new features? Contact our team today and we'll set up a test drive or a demo for you.
Find a New Car with Android Auto & Apple CarPlay
Follow the Latest from Auffenberg CDJR
Well-known for its off-road handling, the 2020 Jeep Wrangler colors add style and distinction to this already iconic vehicle. Offering an impressive array of Jeep Wrangler colors, this SUV allows Belleville drivers to customize their Wrangler to suit their specific style. For those wondering ,"what colors does the Wrangler come in", learn more about the…

Belleville and Smithton drivers who are in the market for a maneuverable, fuel-efficient yet sporty crossover should research the 2020 Jeep Compass. With a low starting price of $22,280 MSRP and added off-road capabilities that only Jeep can offer on a crossover, the Compass is unique in that it straddles the commuter and performance markets,…

The 2019 Jeep Cherokee ranked among the top U.S. News and World Report's list of compact SUVs, and the 2020 Jeep Cherokee builds on those expectations to make it one of the most reliable and favored compact SUVs on the market. Thanks to seven different trim levels, Belleville drivers are excited about the new Jeep…