Jeep Service: Caring for Your Wrangler or Cherokee is Easy at Auffenberg CDJR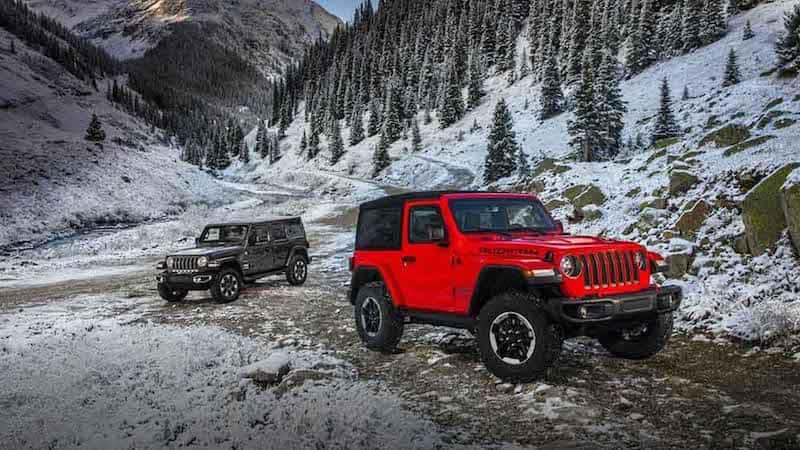 If you want your Jeep to be off-road ready, you need it, then taking care of it is essential. Not only can performing basic maintenance tasks save you money and keep your chariot looking good, but it will also save you from the embarrassment of calling for a tow when the front wheel falls off and rolls away without you.
Easy Maintenance You Can Do
Most Jeep owners, whether they've chosen their Jeep for performance or utility, are more than capable of taking care of the basics, including pre-trip inspections, and other basic preventative maintenance tasks:
Inspect Tires: Check for damage and uneven signs of wear before you head out.
Fluid Check: Regular checks of the oil, transmission fluid, and coolant can alert you to any leaks or issues before they become a problem.
Brake Inspection: Checking your brakes for any uneven wear, leaking fluid, or debris between the pad and rotor will ensure your brake system works as it should when you need it.
Give it a Wash: Keeping your exterior clean can help you spot damage and minimize wear by protecting your vehicle's paint finish.
By performing a few quick tasks on your own, you can potentially save yourself thousands in repairs and hours of downtime.
Jobs for the Pros
Other, more serious jobs are better left to the Mopar professionals.  Unless you have some experience under the hood, or put Wranglers back together for a living, the following tasks should be done by your local Jeep Service Center:
Oil Changes
Tire Rotation
Transmission Service
Battery Check
Bearing Replacement
Suspension Repair
Air-conditioning Recharge
Now, oil changes and tire rotations, even brake replacements, can be done in your garage. But we offer some of the most competitive prices around Belleville and Smithton so you can keep your garage and your jeans clean.
Learn More at Auffenberg CDJR
For more information about the services we provide, including Jeep Lift Kits and engine diagnostics, or to hear what you should do to keep a new Jeep Trailhawk in top shape, drop by our Chrysler, Jeep, Dodge, Ram service center at Auffenberg CDJR. You can also learn how to check your transmission fluid levels by reading this helpful guide!