RAM Truck History: The Evolution of the RAM 1500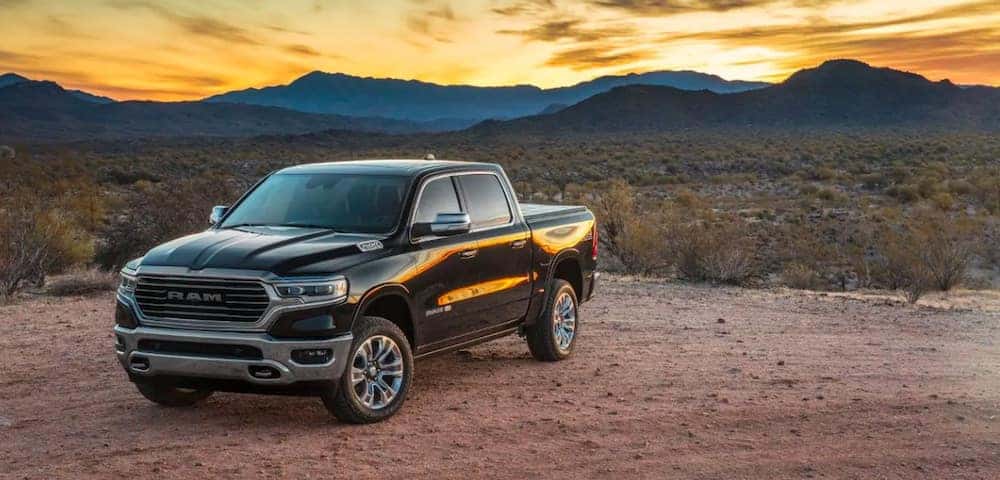 The RAM 1500 is a powerful pickup that delivers serious utility, style, and towing for drivers from Belleville to Smithton and throughout the U.S. It's one of the most popular trucks in its segment, but have you ever wondered how that came to be? We're exploring the Dodge RAM 1500 history to give you a better idea of how this truck evolved into what it is today.
New RAM 1500 Inventory Contact Us
RAM Truck History: The Beginning
In 1981, Dodge first produced pickup trucks sporting the RAM name. In 1933, Dodge has used a ram's head as a hood ornament on its truck to show that they were tough, and the symbol was brought back as a mascot in the early '80s.
These trucks used "D" to signify two-wheel drive and "W" to signify four-wheel drive, as well as 150 for half ton, 250 for three-quarter ton, and 350 for one ton. The RAM D150 was a two-wheel drive, half-ton truck.
These trucks had the option of a standard cab, extended cab called a club cab, our  four-door crew cab combined with a 6.5-foot bed or an 8-foot bed. They ran on a 3.7L slant six engine that delivered 95 hp, a 5.2L V8 that delivered 140 hp, or a 5.9L V8 that delivered 170 hp.
RAM Truck History: Truck Upgrades
In 1985, the Power RAM, the four-wheel-drive version, was updated to make it easier to drive. It received a Ram trac transfer case that allowed drivers to shift in and out of 4WD mode while driving at speeds of up to 55 mph.
Three new or updated engine options were introduced in 1989. There was the new 3.9L fuel injection V6 that delivered 125 hp, and the updated 5.9L V8 that also has fuel injection that delivered 190 hp. The third option was the new Cummins turbodiesel engine — a 5.9L inline six-cylinder engine that delivered 160 hp and 400 lb-ft of torque.
RAM Truck History: Today
The RAM 1500 continued to receive upgrades throughout the rest of the '80s, '90s, and early 2000s. Some years saw minor changes, while others saw major facelifts.
Today, the 2019 All-New RAM 1500 is the Motor Trend Truck of the Year for 2019. The 2020 model is available in six trim levels and offers best-in-class V8 towing of up to 12,750 pounds. Inside, you get the Uconnect® infotainment system with an available 12-inch touchscreen and a crew cab or quad cab, depending on which trim you choose.
To learn more about the RAM 1500 see our guide on the 2020 RAM 1500 towing capacity or the difference between the RAM 1500 crew cab and quad cab, contact us online, or visit us in Shiloh to speak to a member of our sales team and take a test drive.
More on the RAM 1500
When you want gas mileage in a light-duty truck that reaches up to 20 mpg/city and 25 mpg/highway, you're  in the market for a 2021 RAM 1500. Gas mileage with this truck keeps your Belleville drive cost-effective without skimping on the features you need to get the job done. The RAM 1500 fuel economy…

Does the RAM 1500 need an introduction? It's one of the most versatile and powerful trucks in its segment, but one undersung perk on this vehicle is the RAM 1500 interior. Auffenberg CDJR has a guide for Belleville drivers on all things in the RAM 1500 inside and the RAM 1500 Limited interior, from the dimensions…

The RAM 1500 is one of the most beloved new light-duty trucks for sale in the Smithton and East St. Louis areas, but what if it doesn't provide enough towing capacity for you? You can upgrade to the RAM 2500, of course! Just how much can the RAM 2500 tow? Up to 19,860 pounds when configured correctly…