Performance vs. Utility: What's the Difference & How to Choose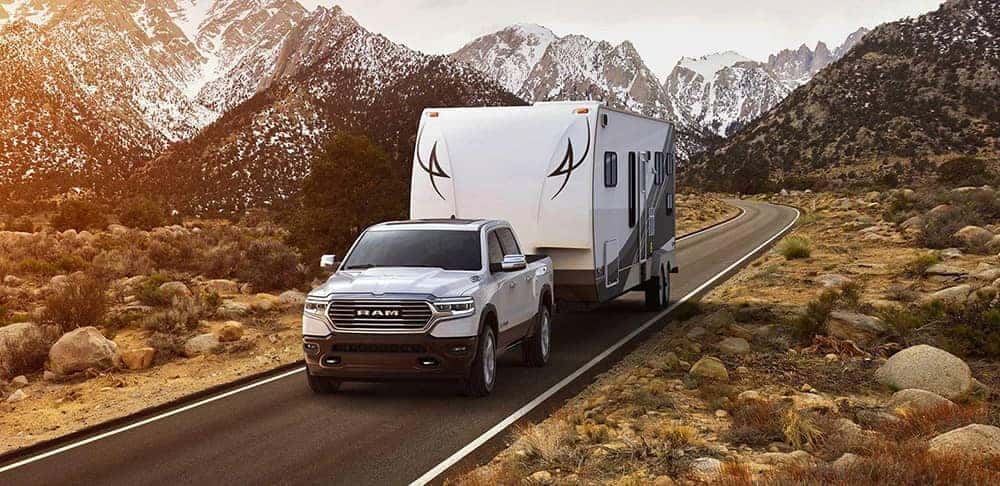 Performance vs. utility – which do you need in your next car? A new, high-mpg compact car might be the smart choice for some Belleville drivers while others need a 4WD truck. The Smithton family may want a more spacious minivan while a family business owner may need the capabilities of an SUV. A high-torque RAM 1500 is not the same as a Dodge R/T-focused Challenger or Charger—they're both ideal for different situations. We break down some key differences so you can find your next car, including:
Horsepower vs. Torque
All-Wheel Drive vs. 4-Wheel Drive vs. MPG
Off-Road vs. City Car
Interior Space vs. Cargo Room
Horsepower vs. Torque
Horsepower helps determine the top speed of a car, but if you're looking to tow, torque should be a priority.
High Horsepower: Superior high-speed performance.
High Torque: Superior low-speed performance, able to tow and haul more, and more capable of getting out of sticky terrain.
All-Wheel Drive vs. 4-Wheel Drive vs. MPG
Even as vehicles get more efficient, all-wheel drive and 4-wheel drive affect your fuel bottom line. Most drivers know what they get in exchange for a few points of lost mpg, but here's a quick rundown for your priorities:
All-Wheel Drive: AWD typically sends power to all 4 wheels as needed while operating in two-wheel drive in normal driving conditions for improved mpg.
4-Wheel Drive: If you want complete control of your vehicle's driving behavior, 4WD is the best choice since you activate the different driving modes manually.
MPG: If your budget is the top priority, you should stick with a two-wheel drive car — likely front-wheel drive unless you're eyeing a sports car or a truck — as the engine uses less power, and thus less fuel, powering two wheels.
Off-Road vs. City Car
Where will you be driving? It's going to affect plenty.
City Car: Mostly sticking to cities and highways? A car that's tuned for performance will make your commute or road trip easier.
Off-Road: You'll need different suspension to cope with the demands, plus a host of further additions — and we recommend 4-wheel drive. Being off-road-capable is the domain of utility vehicles. You can further enhance off-road capabilities with add-ons like /how-to-lift-your-jeep/lift kits.
Your Car's Interior Space vs. Cargo Room
Finally, measure up your desire for comfort against your need for cargo space:
Passenger Comfort: Some sport models are rather spartan, but most performance vehicles provide luxury fittings and materials, as do many crew cab trucks. Smaller vehicles may leave you feeling cramped if you bring camping gear along, too.
Cargo Space: If your sights are set on utility, cargo space (both standard and available) should be a priority. If it doesn't have a cavernous cargo area to start with, you'd better be able to fold down some seats.
From Performance to Utility: Find What You Need at Auffenberg CDJR
Whether you need to talk financing, arrange a test drive, or compare competing models like the RAM 1500 vs. GMC Sierra 1500, the team here at Auffenberg CDJR is always eager to be of assistance – contact us today in O'Fallon for any further help.
Latest News from Auffenberg CDJR
If you're shopping around for a spacious SUV to enhance your Freeburg drives, we have you covered with one of the exciting new Grand Cherokee L trims. Learn more about the Jeep Grand Cherokee L price and standard features per trim, then explore our virtual inventory to find the one that's best suited for your…

There's a reason the 2021 Jeep Grand Cherokee is one of the most awarded SUVs on the market. From innovative interior amenities to powerful performance, the Jeep lineup has the versatility you need to conquer your Belleville trips. Take the new Jeep Grand Cherokee L for example. With a striking design, ample legroom and…

We've never heard anyone complain about having too many choices. That's because having options is a good thing. That's why there are eight impressive Jeep Cherokee configurations to choose from and the famous Jeep Cherokee 4×4 drivetrain is available as an option on all of them. Read below to learn more about the 2021…
Save with Service Coupons in O'Fallon