How to Check Coolant Levels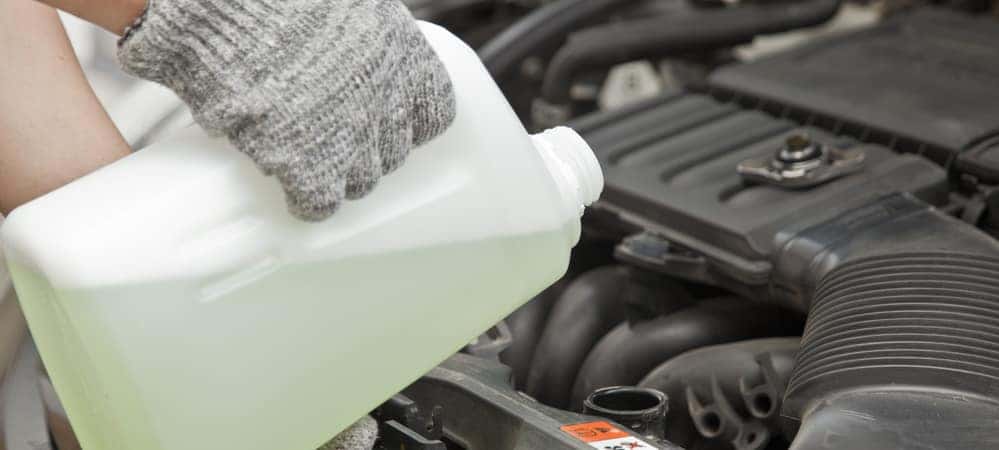 If you've ever asked yourself "what is coolant?," you're not alone. Many drivers know it's important — like their oil or their battery — but not much else. Auffenberg CDJR is here to break down the whats and whys of coolant, including how to check your coolant levels and when to change coolant.
What is Coolant?
Engine coolant is a fluid that helps regulate the temperature of the engine block and parts through the transfer of heat. Coolant contains additives to ensure it doesn't evaporate above 212 degrees F, but also stays liquid below 32 degrees F. Whether you drive a brand-new vehicle or a used model, coolant is crucial to keep your engine running.
How to Check Your Coolant Levels
The coolant levels are easy to check by simply looking at the markings on the side of the reservoir. You only have to remove the radiator cap if the liquid doesn't reach the "full" marking line and needs to be topped off.
To add more coolant, remove the radiator cap and add the coolant or a 50/50 mix of coolant/water; read the bottle to see if it's premixed. This is also a good time to give a quick inspect the hoses connected to the radiator for any leaks or damage.
Warning: Be sure the engine has cooled before opening the radiator cap or adding more fluid. Do not attempt while the engine is hot.
When to See a Service Technician
In its normal state, coolant is thicker than water but thinner than oil. If you notice a thicker, sludgy appearance to the liquid visit a service center right away. This could be the sign of an internal gasket leak which could cause the coolant to drain quickly. If this happens your engine is at risk of overheating and being severely damaged.
When to Change Your Coolant
We recommend checking the cooling system every three to six months, as the coolant will deplete over time. Usually, the liquid is blue, green, yellow, or red. If it's brownish or even colorless, flush the system and replace the fluid. If you change your coolant at home, be sure to clean up any spills: engine coolant is poisonous, and the sweet smell can attract animals.
Find More Service Tips at Auffenberg CDJR
If you have questions about your car's coolant system or any other vehicle issues (like checking transmission fluid), contact us at Auffenberg CDJR. We are located just a short drive from Belleville and Smithton, and have a rotating selection of Mopar coupons that are available to help keep your car on a maintenance schedule for cheap! For more like this, check out our in-depth guide to cleaning car floor mats!
More From Our Service Department
New InventoryContact Us The latest updates to our model lineup include the newest rendition of Uconnect, Uconnect 8.4, which is complete with an 8.4-inch touchscreen, Android Auto, and Apple CarPlay smartphone integration. Whether asking Siri for help is second nature or you're just getting used to using a smartphone, Android Auto and Apple…

If you've ever asked yourself "what is coolant?," you're not alone. Many drivers know it's important — like their oil or their battery — but not much else. Auffenberg CDJR is here to break down the whats and whys of coolant, including how to check your coolant levels and when to change coolant. Schedule Service What…

No Smithton driver wants to see a check engine light flashing, but you don't have to panic just yet. Unlike jumping a car or running low on coolant, the check engine light can suggest a lot of different things. Find out the common causes for a check engine light blinking, and what you can do,…